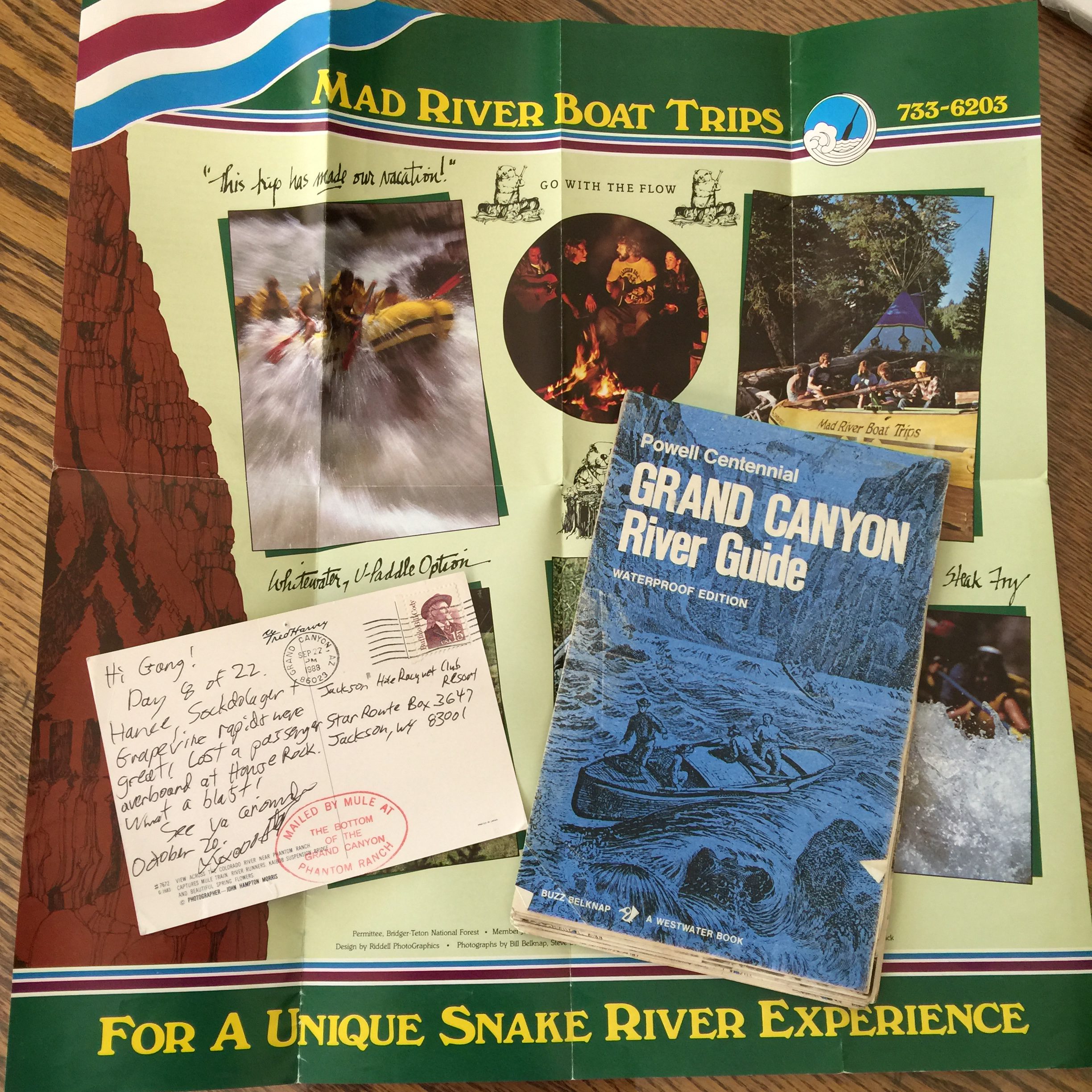 If you were at West Table on the Snake River in 1991, then you might well be in Patrick Mignano's 1991 classic Ed's Whitewater: Back in Business, a spoof of professional whitewater rafting guides in Jackson Hole. Warning: there is some foul language and the technical quality of the video is not optimal. Highlights are in the 30-minute video below.
Roadkill On A Stick Frozen Foods Theatre Company is the improv comedy troupe that was active in Jackson Hole, Wyoming from 1988-1992. Videos from that period are comedy gold!
The signature sketch "Frozen Roadkills On A Stick," written by Ed Bachtel, turned the Roadkill On A Stick Frozen Foods Theatre Company from a concept to an established show, running for 22 performances over 8 weeks at the Wort Hotel in Jackson, Wyoming, during the Yellowstone fires of 1988.
In this excerpt from the full show, Dave Rohrer put his spin on Psycho Killer, then Ed Bachtel sells roadkill to Holly Danner and Stephan Parker. Then, as at every show, the grand finale was The Star Spangled Banner as only this troupe could present it.
"Weird Ed" Bachtel, a guide for Barker-Ewing Whitewater, and Stephan "Killer" Parker, a guide for Mad River Boat Trips, co-produced this show under a legal partnership. For the 1988 season, they were joined by Dave Rohrer of Lifelink International/Croakies, and Holly Danner from KMTN-FM. The video for "Cod Piece Dining Room" is from the 1992 show, with Louise Gignoux replacing Holly Danner.
These recording are from the final performances of the 1988 and 1992 comedy troupes. The hour leading up to their first performance (on Independence Day weekend 1988) is immortalized in the underground opera sensation A Roadkill Opera.
A Roadkill Opera is based on a true story. A brief video recorded at the GRAMMYs in February 2015 gives you some background.
The song "Geo expresses the joy of performing. It also discusses the relative merits of the then-new line of cars from Chevrolet.