For Immediate Release: June 25, 2016


Roadkill Opera: Stephan Alexander Parker roadkillopera@icloud.com 240.277.6640 www.roadkillopera.com
SYMPHONY ORCHESTRA OF NORTHERN VIRGINIA TO PERFORM UNDERGROUND OPERA SENSATION A ROADKILL OPERA
FREE PERFORMANCES AT THE JAMES LEE THEATER ON OCTOBER 21, 2016
Jeffrey Dokken, Music Director and Conductor for the Symphony Orchestra of Northern Virginia, directed sold-out shows at the Mead Theatre Lab at Flashpoint in Washington, DC in January 2016
 Studio recording released on July 4, 2013, got the Roadkill Opera creative team invited to the GRAMMYs
Show was conceived at Artomatic 2004 & workshopped at Artomatic 2012
ALEXANDRIA, VA (June 25, 2016) — The creative team behind the Artomatic 2012 workshop performance and 2013 studio recording of A Roadkill Opera who followed up their visit to the Grammys in 2015 with world premiere performances in January 2016 announced today that the Symphony Orchestra of Northern Virginia (SONOVA) will produce FREE fully staged performances at the James Lee Theatre on Friday, October 21, at 7 and 9 pm. Jeffery Dokken, conductor and music director for SONOVA, conducted and directed the world premiere performances of A Roadkill Opera in January 2016 at the Mead Theatre Lab at Flashpoint.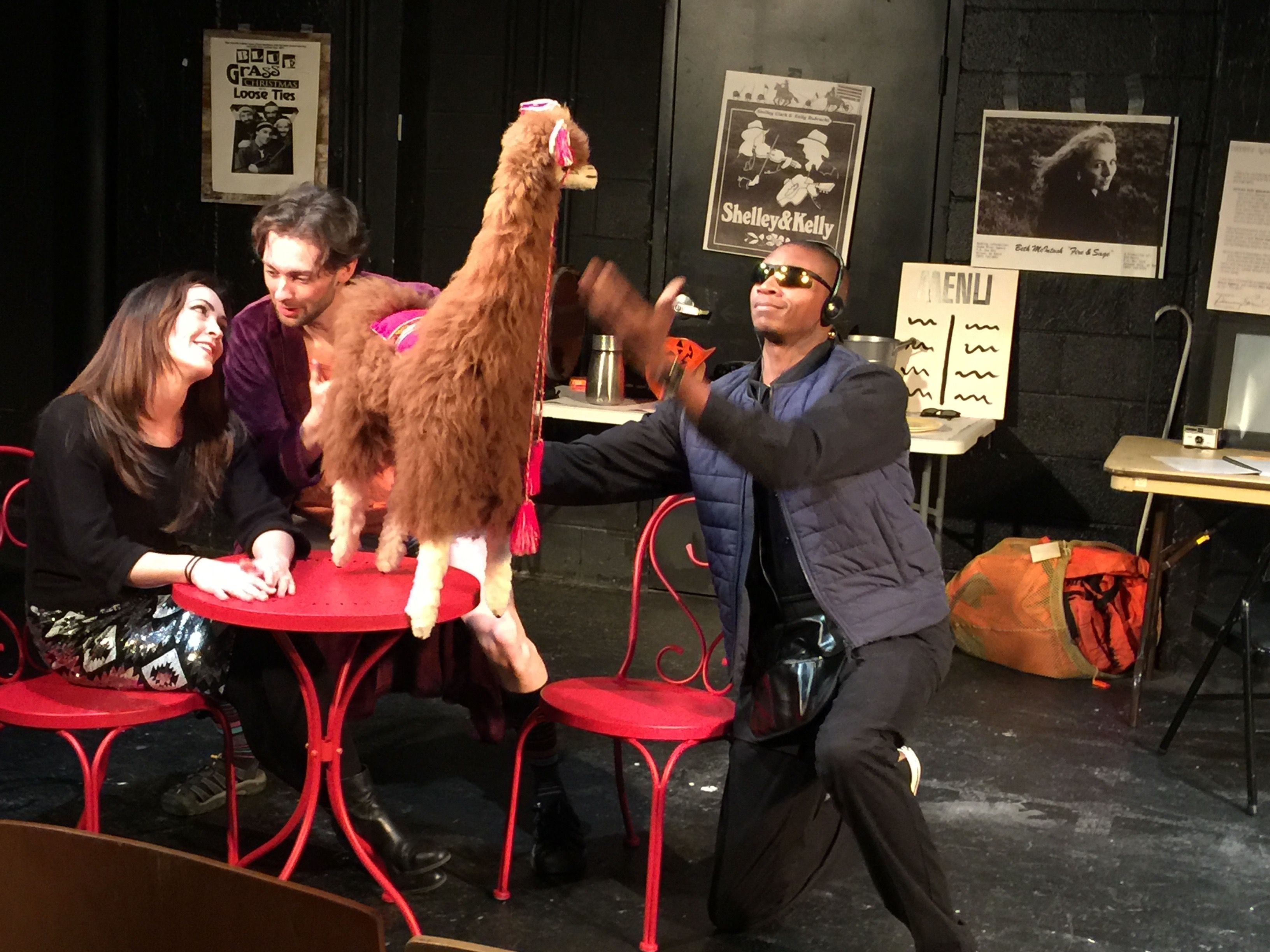 A Roadkill Opera is a new opera written by Stephan Alexander Parker and first workshopped at Artomatic 2012, the Washington area's largest free creative arts event. A mash-up of a classic screwball backstage comedy and Ferdinando Paer's 1804 opera Leonora, the 59-minute opera tells the story of the hour before the lights go up on the first professional gig for an amateur improv comedy troupe in 1988 Jackson Hole, Wyoming. During that hour, they find out their showroom at the Silver Dollar Bar is going to be torn down.
"Parker's new story and English lyrics are hilarious, and he kept Paer's music intact," said Dokken. "Classical music lovers will enjoy it, opera lovers will enjoy it, and your random fans who have maybe never seen an opera before will enjoy it, too."
Peter Maag called Paer's Leonora "an inspired, imaginative work, technically worthy of the highest praise…The orchestration is faultless and complements the vocal parts beautifully."
Pam Schipper wrote in the Gaithersburg Town Courier that A Roadkill Opera's "[s]ongs like 'Impress Them,' 'Cod Piece Dining,' 'Jello,' and [Gonna buy my old granddad a] 'Geo' pair offbeat humor with beautiful vocals and music."
Paul Barrosse, writer/performer with Chicago's Mee-Ow Show and Practical Theatre Company, and Saturday Night Live, called A Roadkill Opera "…a very, very, cool thing…exceptionally well done…"
Dokken and Parker, video director Ben Ganz (who spent 7 years at American Idol and has now formed Vego Pictures), and merchandizing director DJ Choupin attended the Grammys in February 2015. Composer Ferdinando Paer was not available to attend, as he died more than a century ago.
Maestro Dokken became involved with the project after long-time Artomatic exhibitor Parker completed this new English libretto, begun and roughed-out during Artomatic 2004. A search for interested producing partners was launched at Artomatic 2009, continued at Artomatic@Frederick in 2011, and ended in 2012 when Dokken received a copy of the score through a mutual friend, Martine Micozzi, who plays flute for SONOVA and on the studio recording of A Roadkill Opera. The Artomatic 2012 workshop performance of A Roadkill Opera in June in Crystal City, Virginia, was "sprawling room only—every seat was taken and people were sprawled out in all directions," said Parker.
Parker and Dokken gave invited artist talks in the Washington DC area at Artomatic 2015 and at Artomatic@Frederick 2016.
Music from 1804. Action set in 1988. A new opera (in just 59 minutes)
The 2012 performance at Artomatic was one of many featured at the month-long arts event. Artomatic 2012 was the largest ever event, featuring work and performances by more than 1300 artists, performers, musicians, filmmakers, fashion designers, and creatives of all kinds in a 380,000 square-foot office building in Crystal City, Va. The 6-week event attracted more than 80,000 attendees—not all at the same time, obviously.
FREE performances of A Roadkill Opera will be held at 7 pm and 9 pm on Friday, October 21, 2016, at the James Lee Community Center Theater, 2855 Annandale Road, Falls Church, VA 22042. Watch for more information at http://sonovamusic.org and www.roadkillopera.com.
**MEDIA AVAILABILITY: To schedule an interview with Maestro Jeffrey Dokken or librettist Stephan Alexander Parker, or to arrange photo opportunity, contact Stephan at 240.277.6640 or roadkillopera@icloud.com.
Jeffrey Sean Dokken (Music Director and Conductor). Maestro Jeffrey Sean Dokken is one of today's most exciting and vibrant conductors, composers, and tenors. Northern Virginia Magazine wrote, under Maestro Dokken's direction "NOVA has a world-class symphony in the Symphony Orchestra of Northern Virginia." Over the past decade, Dokken has performed all across the United States in some of America's greatest venues, including The Kennedy Center, Carnegie Hall, the Marie Collier Baker Theater and many more; internationally, he's performed at Teatro Sanchez Aguilar, Teatro Centro Civico Eloy Alfaro, and Teatro Bolivar. From 2012-2014, Maestro Dokken has had the distinct honor of conducting at the White House in Washington D.C. as part of the "Holidays at the White House".
In addition to being the Music Director and Conductor of the Symphony Orchestra of Northern Virginia (SONOVA), Maestro Dokken is also the Music Director of CoroAllegro in Wilmington, Delaware, Delaware's preeminent chamber choir. Dokken has recently been guest conductor with the Orquesta Sinfonica de Guayaquil, Loja Symphony Orchestra, Opera Guild of Northern Virginia, American University, The Washington Men's Camerata, The Reformation Festival Choir and Patrick Lundy, and the Ministers of Music. In December 2013 and 2014, Maestro Dokken returned to the Kennedy Center to conduct a combined choir of 250 voices in a performance of Handel's "Messiah".
After earning his degree in vocal performance from the prestigious University of Redlands School of Music, Dokken pursued graduate degrees in music education and conducting at California Lutheran University and Shenandoah Conservatory, respectively. Maestro Dokken has studied conducting with Dr. Steven Cooksey and Jeffrey H. Rickard, euphonium and trombone with Dr. Phil Keen, piano with Dr. Angelica Prodan, and voice with Mrs. Patricia Gee and Dr. Anthony Zwerdling.
In addition to being an accomplished conductor and composer, Maestro Dokken is in high demand as a vocalist. As a singer, Dokken has performed with innumerable world-class soloists, including Andrea Boccelli, Kelli O'Hara, Brian D'Arcy, James and David Archuletta, among others. Dokken has performed as a vocal soloist throughout the country with various instrumental and choral ensembles, including recent performances with the Kennedy Center Opera House Orchestra and St. Marie's Choral Arts. In August 2014, Dokken performed a solo Broadway recital at Lenna Hall in New York, accompanied by renowned musician Jeanne Kelly. In October 2015 and May 2015, Dokken performed a series of acclaimed duet concerts in California and Virginia with South America's finest pianist, Juan Carlos Escudero.
Dokken has composed for, conducted and performed on a number of opera, classical, and musical theatre CD's and DVD's. Most recently, he conducted and co-produced, and sang the tenor role on Stephan Parker's 2013 adaptation of Ferdinando Paer's classic opera "Leonora", released commercially in July 2013. Additionally, Dokken was the Musical Consultant and Composer in Residence for the largest health care corporation in America, Kaiser Permanente.
About SONOVA
The Symphony Orchestra of Northern Virginia (SONOVA) began as a small, government funded, Arlington County orchestra. Wildly popular with audiences and musicians alike, in 2011, the conductor, Maestro Jeffrey Dokken, and the committed musicians established a large, independent professional-quality symphony. Delighting audiences throughout the region, SONOVA's home theater is the beautiful George Washington Masonic Memorial Theater. Additionally, SONOVA has performed at such venues as Arlington's Spectrum Theater, the historic Church of the Reformation in Washington, DC, and for three years in a row, the White House, and Colonial Williamsburg's historic Bruton Parish. SONOVA has been invited to perform throughout the Mid Atlantic region with arts organizations as wide ranging as renaissance choirs, tap dance companies, symphonic choirs, and Broadway artists. SONOVA routinely performs with world class guest artists, conductors, and musicians, and places special importance on collaborations and American and world premieres. SONOVA has given premiers of works by Brian Wilbur Grundstrom, Peter Rauch, Paul Leavitt, Michael Ream, and William Burdett, and has been joined onstage by world renowned soloists and conductors Jorge Saade-Scaaf, Juan Carlos Escudero, Krystal Rickard-McCoy, Jackson Caesar, Laura Wehrmeyer, Bakaari Wilder, David Timpane, Barry Hemphill, and many others. For more information, visit http://sonovamusic.org.
About Artomatic
Artomatic creates community, builds audience and expands economic development by transforming available space into a playground for artistic expression. Open-entry events showcase creative work including visual art, music, film, performance, poetry and fashion. Artomatic is a non-profit organization headed by a volunteer Board of Directors and funded in part by the D.C. Commission on the Arts and Humanities, an agency supported by the National Endowment for the Arts. For more information, visit www.artomatic.org.
About A Roadkill Opera
A Roadkill Opera tells the story of the hour before the lights go up on opening night for a comedy improv troupe in 1988 Jackson Hole, Wyoming—the Roadkill On A Stick Frozen Foods Theatre Company. Based (loosely) on a true story from a fast-developing tourist town, this original English libretto by Stephan Alexander Parker is set to music from 1804 by Ferdinando Paer (Napoleon's maitre de chapelle). A synthesized piano karaoke version of A Roadkill Opera was posted online in April 2012. Maestro Jeffery Dokken assembled five opera singers and an 8-piece chamber orchestra to workshop and perform a concert version of A Roadkill Opera at Artomatic 2012 in June. He reassembled most of the singers and players between January and June 2013 for a studio recording of A Roadkill Opera, commercially released on July 4, 2013. The creative team behind A Roadkill Opera was subsequently invited to the GRAMMYs based on that recording, which they attended in February 2015.
# # #