To celebrate the January 2016 world premiere performances, Groundhog Day 2016 saw the publication of both the black-&-white and deluxe color versions of  A Roadkill Opera: the underground opera sensation.  This slim volume with lyrics in large print make it easy to follow along with the 59 minute studio recording (in English) of A Roadkill Opera released on July 4, 2013, on Amazon.com and subsequently on  CD Baby, AmazonMP3, and iTunes.
A Roadkill Opera is now available worldwide on nearly all platforms. This comic opera with music in the style of Wolfgang Amadeus Mozart is recommended for fans of PDQ Bach, Tom Lehrer, Weird Al Yankovic, and The Rutles–but only if you like classical music with infectious hooks.
A Roadkill Opera tells the story of the hour before the lights go up on opening night for a comedy improv troupe in 1988 Jackson Hole, Wyoming: the Roadkill On A Stick Frozen Foods Theatre Company.  During that hour, they find out their showroom at the Silver Dollar Bar is being torn down. This original story and English libretto by Stephan Alexander Parker is set to music from Leonora by Ferdinando Paer, Beethoven's direct competitor.   59 minutes (in English).
Lucky audience members at the sold out January 2016 shows of A Roadkill Opera received free copies of the draft version of the black-&-white libretto so they could easily follow the lyrics of this hilarious new opera. The February 2, 2016, publications incorporate photos from the fully staged shows.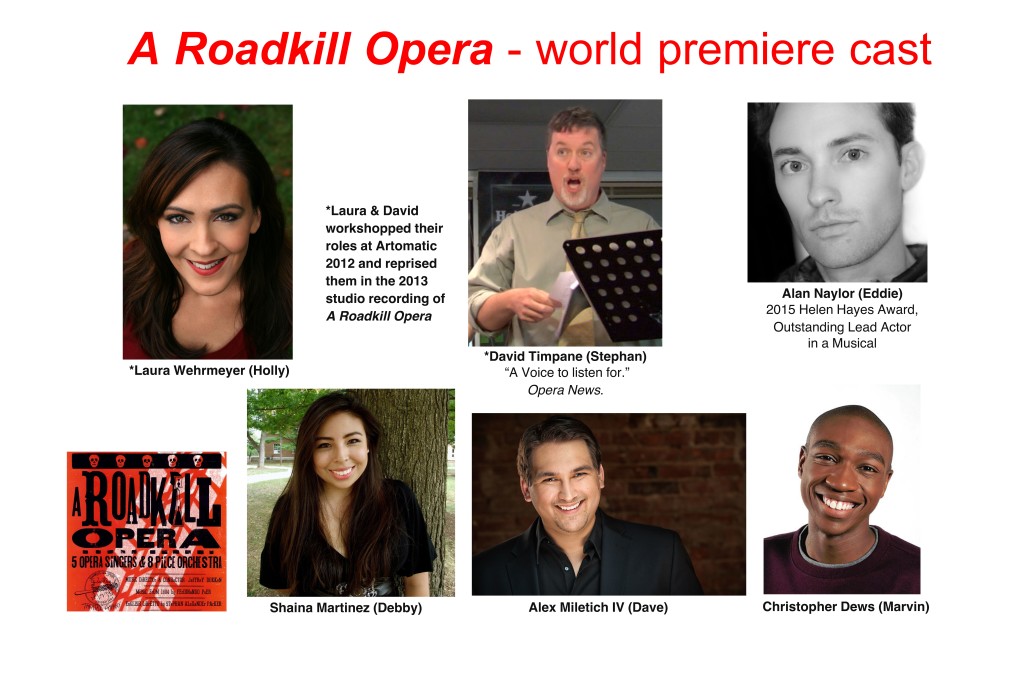 There are two versions available on Amazon today:
A Roadkill Opera: the underground opera sensation: World Premiere Performances Black & White Edition with a suggested retail price of $9.00, and
A Roadkill Opera: the underground opera sensation: World Premiere Performances Deluxe Color Edition with a suggested retail price of $25.25.
Worldwide distribution channels will come on line in the next several weeks. Quantity discounts are available now by contacting the author.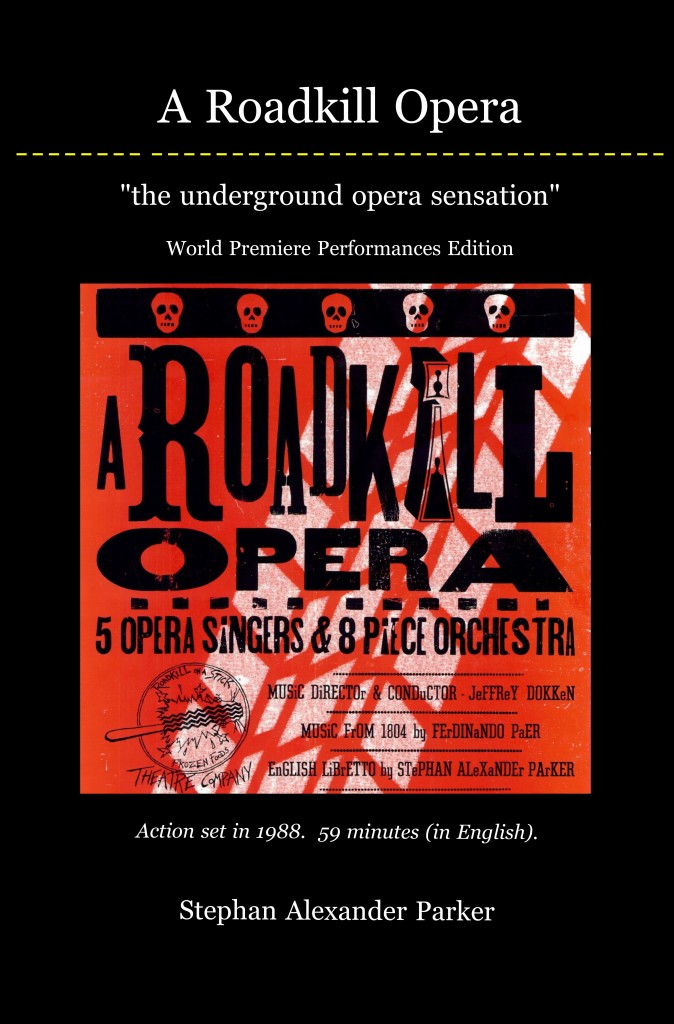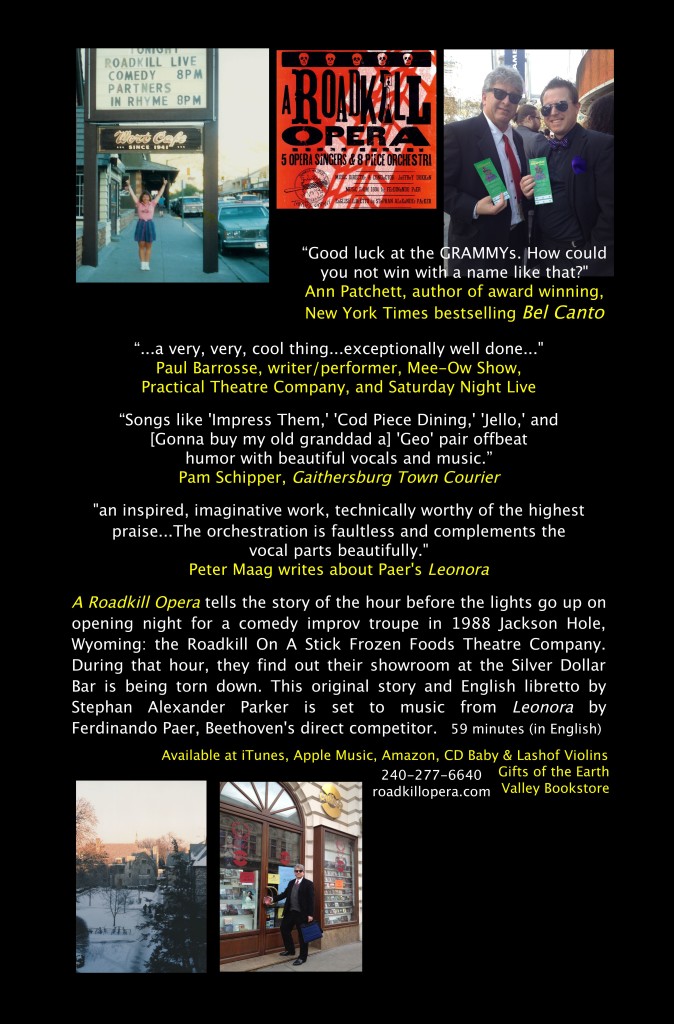 As it says on the back cover:
"Good luck at the GRAMMYs. How could you not win with a name like that?" Ann Patchett, author of award winning, New York Times bestselling Bel Canto

"…a very, very, cool thing…exceptionally well done…" Paul Barrosse, writer/performer, Mee-Ow Show, Practical Theatre Company, and Saturday Night Live
"Songs like 'Impress Them,' 'Cod Piece Dining,' 'Jello,' and [Gonna buy my old granddad a] 'Geo' pair offbeat humor with beautiful vocals and music." Pam Schipper, Gaithersburg Town Courier
"an inspired, imaginative work, technically worthy of the highest praise…The orchestration is faultless and complements the vocal parts beautifully."  Peter Maag writes about Paer's Leonora
A Roadkill Opera is available at iTunes, Apple Music, Amazon,  CD Baby, and other online platforms worldwide. Better yet, A Roadkill Opera is available locally at Lashof Violins in Gaithersburg, Maryland, and at Gifts of the Earth and the Valley Bookstore in Jackson, Wyoming.
Watch for announcements of more live productions!