For Immediate Release: May 2, 2015


Roadkill Opera: Stephan Alexander Parker   roadkillopera@icloud.com    240.277.6640
UNDERGROUND OPERA SENSATION "A ROADKILL OPERA" WORLD PREMIERE ANNOUNCED
Jeffrey Dokken, Music Director and Conductor for the Symphony Orchestra of Northern Virginia, Vetted Score and Parts at Artomatic 2012 Workshop and 2013 Studio Recording Sessions, to Return as Music Director and Conductor for January 2016 Performances
 See A Roadkill Opera Librettist Stephan Alexander Parker at the Gaithersburg Book Festival on Saturday, May 16, 2015
Nashville, Tennessee—Librettist Stephan Alexander Parker, a 1979 graduate of the University School of Nashville (USN), announced today that A Roadkill Opera will have its world premiere performances at the Mead Theatre Lab at Flashpoint in Washington, DC, on January 8-9, 2016. Special thanks to the late Jaylee Mead for her generous support of the Mead Theatre Lab.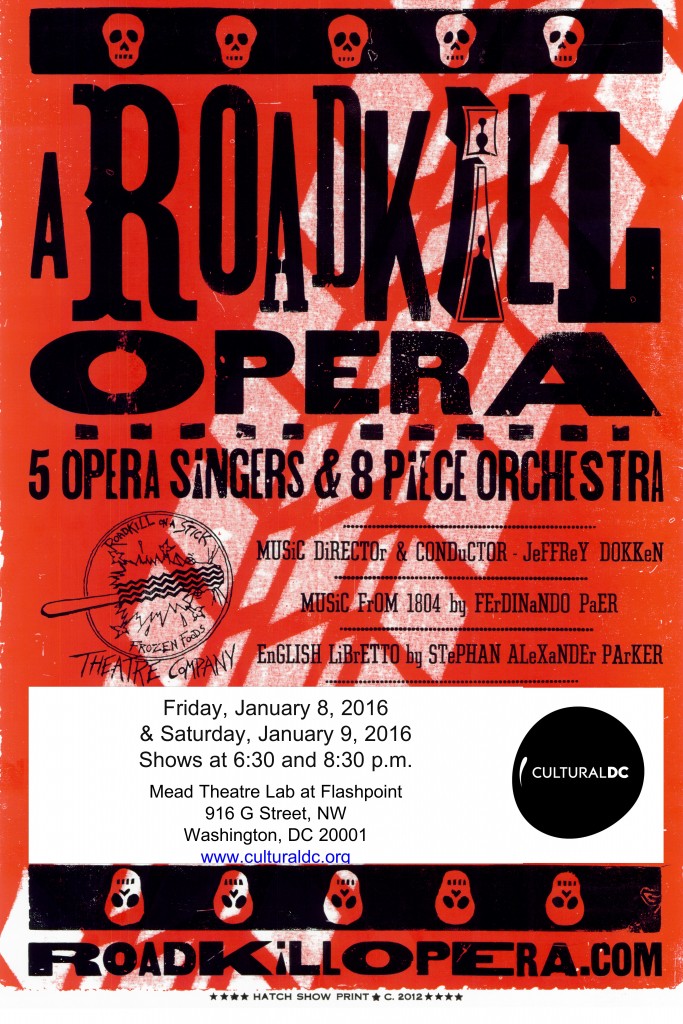 Parker is in Nashville to help celebrate the USN Centennial, where he is slated to give away 100 CDs in honor of the 100th anniversary of the school. Parker and all 3 of his siblings attended the school; Nina, Aaron, and Stephan entered the school when it was Peabody Demonstration School (PDS), while David entered after the change to USN.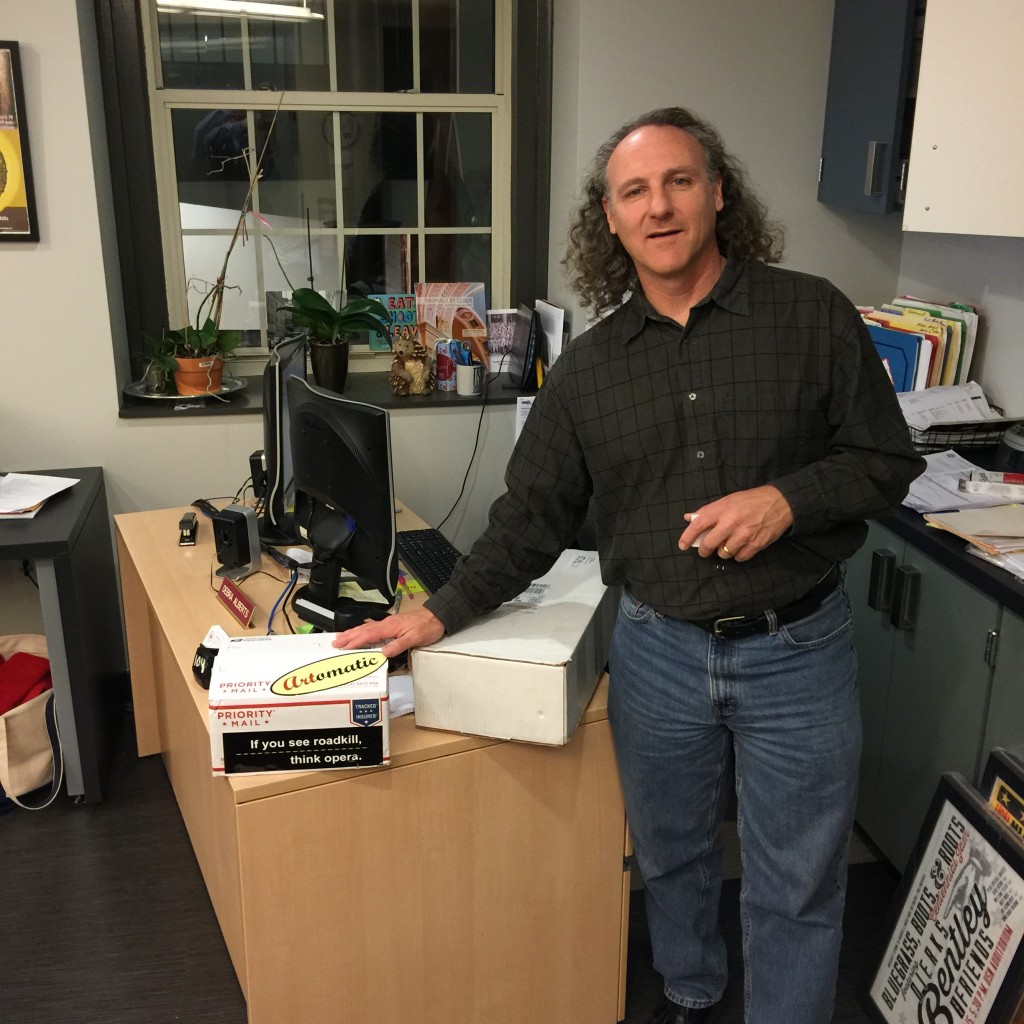 USN Music Night on Edgehill 2015
"At Music Night, my wife Debby and I were lucky enough to share a dinner table with Fran & Heber Rogers in the lobby–you couldn't get any closer to his old office without opening the door.
"The show was first rate. We sat next to Janet Carney Schneider and Drew Schneider–which was especially fun since their son John was playing bass for the all-alumni band, which was very, very good. Janet was one of my teachers and a good sport assisting me in a magic trick for the talent portion of the Mr. USN contest my senior year. But that's a story for another day…
"Dierks Bentley & Friends gave a marvelous performance—funny, moving, personal. When his daughter sang, that really was something—they really know how to recruit talent at USN! And, as a former light and sound man for Opryland USA On The Road in Branson, Missouri, I must compliment the crew for the great sound mix. I always liked the auditorium—our class project in 10th grade was to paint it (we found charred remains of curtains from the 1954 fire)—and when Dierks Bentley said that on his first visit to the school he 'wondered what a five-string banjo would sound like in here' I could have told him 'great!' McKim, Meade and White knew what they were doing, and Manual Zeitlin improved on their work.
"Vince was truly engaging and entertaining–and we loved the stage set, too!" said Parker.
 Peabody Demonstration School & University School of Nashville Influences
"My first year at PDS, Dolores Nicholson made being a stagehand feel like the most exciting part of theatre. When there were trees still on stage from a previous scene and the finale was about to start for the musical Oliver! and she said 'Go!,' you didn't hesitate to run across the stage and grab the trees to clear the stage," said Parker.
Parker and music director/conductor Jeffrey Dokken, the creative team behind the Artomatic 2012 workshop performance and 2013 studio recording of A Roadkill Opera, announced a new initiative at the 2015 GRAMMY Awards in February. Parker personally delivered the first Roadkill Opera DIY package to USN at Music Night a week after the GRAMMYs. He returned for the USN Centennial for the 100 CD giveaway at the suggestion of USN Director Vince Durnan. "USN staff have been so kind and supportive, everyone I spoke with, from Dana Strupp to Britt McCauley, Jeff Goold, and Debra Alberts," said Parker.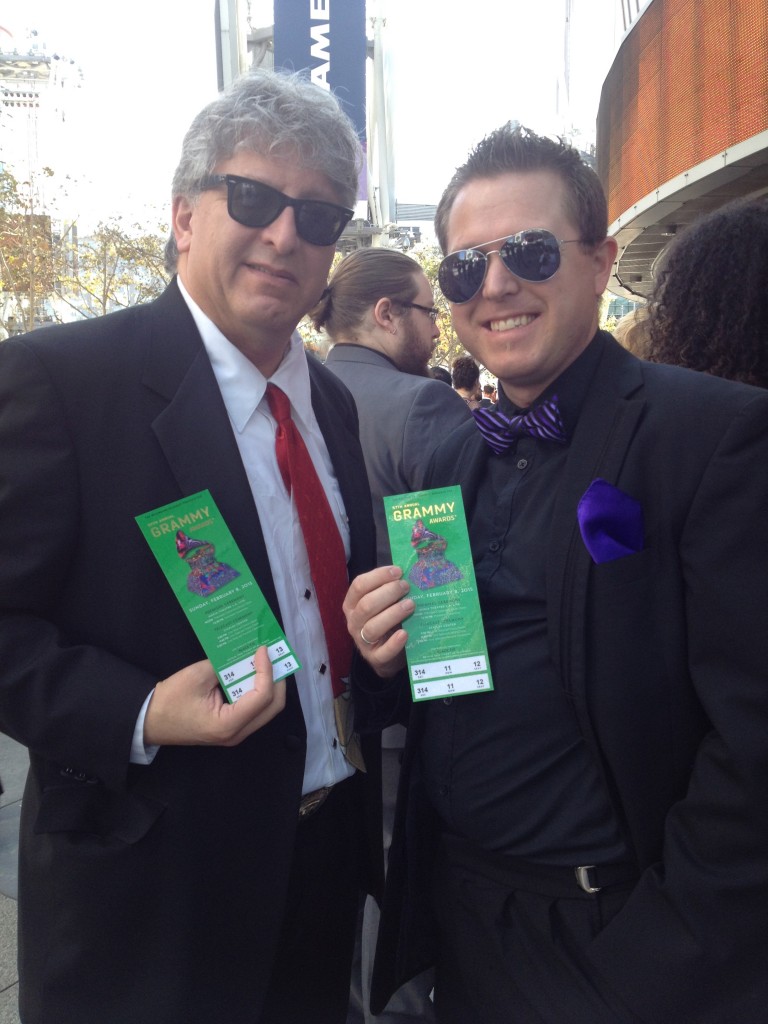 A Roadkill Opera DIY comprises the complete opera in a box, including the conductor's score and parts so you can perform it yourself with just 5 singers and a 9-piece chamber orchestra. The box is ready to ship with surprise extras.
"A Roadkill Opera is thoroughly enjoyable to opera lovers and to non-opera-lovers alike. Parker's libretto is hysterically funny. The music that was written back in 1804 from Paer fits so beautifully with the things that Parker has done. Your classical music lovers will like it, your opera music lovers will like it, and your random fans who maybe have never heard an opera before will like it as well. It really is the complete package," said Dokken.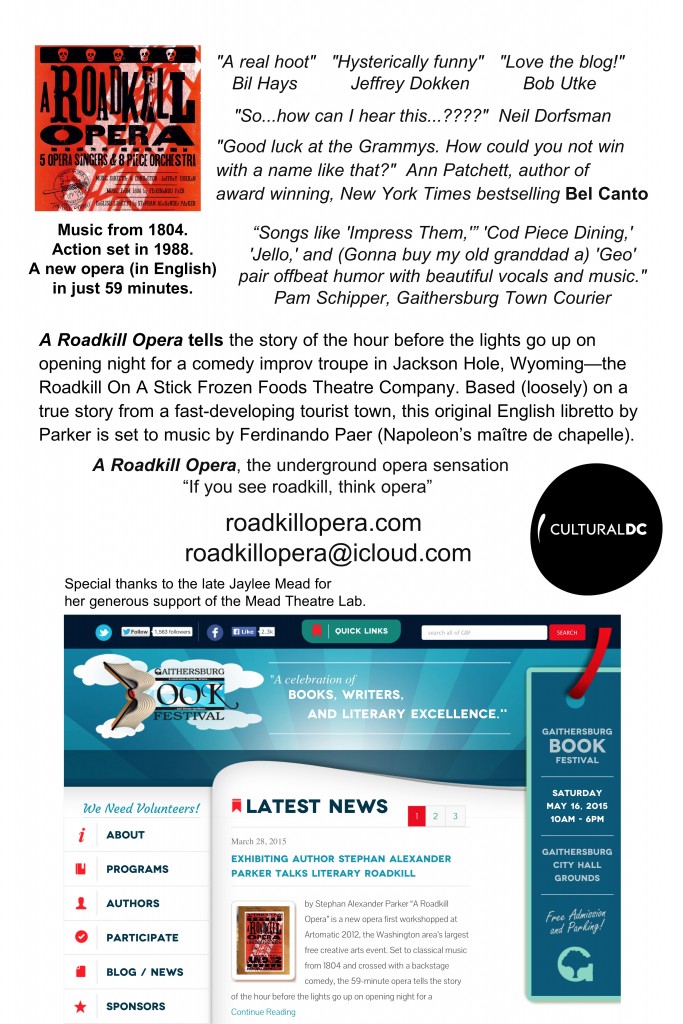 A Roadkill Opera is a new opera first workshopped at Artomatic 2012, the Washington area's largest free creative arts event. Set to classical music from 1804 and crossed with a backstage comedy, the 59-minute opera (in English) tells the story of the hour before the lights go up on opening night for a comedy improv troupe in Jackson Hole, Wyoming. Parker had presented a prototype mockup at Artomatic 2004 in Washington DC, and recruited production partners at Artomatic 2009 (also in DC) and at the licensed Artomatic@Frederick 2011 in Maryland. A work colleague introduced Parker to Maestro Dokken.
"Martine Micozzi had been a session musician in Los Angeles, a flautist, prior to moving to the DC area. She asked if she could show the score to the conductor of an orchestra she played with locally, the Symphony Orchestra of Arlington, now the Symphony Orchestra of Northern Virginia (SONOVA). Martine is so talented—her flute in the 2012 workshop and the 2013 studio recording is flawless," said Parker.
Parker's musical training was in Nashville. Prior to entering PDS, he studied piano and composition under Mr. Higgs at Blair Academy (now the Blair School of Music at Vanderbilt University) and piano in private studies with Jerome Buck. At PDS he learned to play clarinet his first year there.
"We had a full clarinet section, with 3 clarinets and a bass clarinet, when USN hired a new band director, Rick Palmiter. Mr. P, as we called him, looked around and saw our entire brass section consisted of one lonely trumpet, the very talented Bil Hays. He asked 'Who wants to switch instruments and learn to play trombone?' No one else raised their hand. I was the worst musician in band class, third clarinet. I had only been playing a year or so. Mr. P taught me trombone and put me in the pep band he created to play at basketball games. That was so much fun! Hold That Tiger!"
Parker was frustrated that as third clarinet he did not have access to practice the melodic lines that were carried by other instruments. "I resolved that, if I ever had the chance to publish sheet music, every musician would know who was playing on each tune, and they would all be able to purchase the sheet music for their private enjoyment—affordably," said Parker. In 2013 he published the sheet music for A Roadkill Opera in several volumes; one for wind instruments, one for tympani and strings, a piano/vocal score for the singers to use in rehearsal, and a conductor's score that shows every part in a large enough format for use in performances.
For audience use at performances, Parker published a large print libretto (which includes the vocal melodies in large print) so people can follow the action in low light and without supertitles over the stage. "A Roadkill Opera is in English. Even so, it is much easier to follow if you know the words," says Parker.
Maestro Dokken became involved with the project after long-time Artomatic exhibitor Stephan Alexander Parker completed this new English libretto, begun and roughed-out during Artomatic 2004. A search for interested producing partners was launched at Artomatic 2009, and ended in 2012 when Dokken received a copy of the score through a mutual friend. The Artomatic 2012 workshop performance of A Roadkilll Opera in Crystal City, Virginia was "sprawling room only—every seat was taken and people were sprawled out in all directions," said Parker.
Further Washington DC-area performances are planned for the next Artomatic events in 2015 and 2016, once they are officially announced.
Parker's next scheduled appearance is at the May 16, 2015, Gaithersburg Book Festival in Maryland.
Music from 1804. Action set in 1988. A new opera (in English, in just 59 minutes)
A Roadkill Opera tells the story of the hour before the lights go up on opening night for a comedy improv troupe in Jackson Hole, Wyoming—the Roadkill On A Stick Frozen Foods Theatre Company. Based (loosely) on a true story from a fast-developing tourist town, this original English libretto by Parker is set to music by Ferdinando Paer (Napoleon's maître de chapelle).
It took 25 years to identify the classical opera Parker recorded off an FM station, and another 5 years to acquire the score. The story of chasing down the obscure score is related in Parker's 2013 book, If you see roadkill, think opera. A sequel is in the works.
The 2012 performance was one of many featured at the month-long arts event. Artomatic 2012 was the largest ever event, featuring work and performances by more than 1300 artists, performers, musicians, filmmakers, fashion designers, and creatives of all kinds in a 380,000 square-foot office building in Crystal City, Va. The 6-week event attracted more than 70,000 attendees—not all at the same time, obviously.
More information is available at www.roadkillopera.com.
A Roadkill Opera at the 57th Grammys https://www.youtube.com/watch?v=4yg2HhV9e9c
Blog http://aroadkillopera.com/test/
A Roadkill Opera
Friday, January 8, 2016 & Saturday, January 9, 2016
Shows at 6:30 and 8:30 p.m.
Mead Theatre Lab at Flashpoint
916 G Street, NW
Washington, DC 20001
Music Director & Conductor—Jeffrey Dokken
Music from 1804 by Ferdinando Paer
Story and English Libretto by Stephan Alexander Parker
Tickets will go on sale in October 2015. Meanwhile go out and make some music of your own!
A Roadkill Opera, the underground opera sensation
"If you see roadkill, think opera"
**MEDIA AVAILABILITY: To schedule an interview with Maestro Jeffrey Dokken or librettist Stephan Alexander Parker, or to arrange a photo opportunity, contact Stephan at 240.277.6640 or roadkillopera@icloud.com.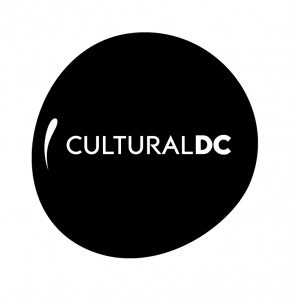 About CulturalDC
CulturalDC makes space for art. Each year CulturalDC serves over 1,000 artists and arts groups and 30,000 audience members through the activation of art space and presentation of contemporary visual and performing arts at our two spaces, Flashpoint and Source, and in nontraditional venues across the city. Through our programs and services we work with artists and arts organizations to build the creative infrastructure that fuels the arts and builds community in Washington, DC.
About Flashpoint
Flashpoint is a dynamic arts space dedicated to nurturing and growing emerging artists and cultural organizations. Flashpoint provides services and training for cultural organizations to help strengthen their management capacity and provide affordable exhibition and performance spaces that enable arts groups to focus on their artistic goals and expand their visibility.
About Artomatic
Artomatic is a non-profit, volunteer-run 501(c)3 organization that organizes and hosts a large arts festival occurring every 12-18 months in the DC metropolitan area, usually in a commercial location slated for demolition.  The event is unjuried (first-come-first-served) and showcases creative work in visual art, music, film, performance, and fashion. The 2012 Artomatic attracted about 1700 artists and performers and over 70,000 visitors. We also license other events in other locations, such as Artomatic@Frederick, held in Frederick, MD, and are currently expanding and building our licensing program stateside and internationally. Artomatic's mission is to create community, build audience and expand economic development by transforming available space into a playground for artistic expression.  Artomatic is guided by a volunteer Board of Directors and is funded in part by the D.C. Commission on the Arts and Humanities, an agency supported by the National Endowment for the Arts. See more about the volunteer teams that make Artomatic possible.
 Jeffrey Sean Dokken (Music Director and Conductor).
Maestro Jeffrey Sean Dokken is one of today's most exciting and vibrant conductors, composers and musicians. Northern Virginia Magazine wrote, under Maestro Dokken's direction "NOVA has a world-class symphony in the Symphony Orchestra of Northern Virginia." Over the past decade, Dokken has performed all across the United States and in some of America's greatest venues including The Kennedy Center, Carnegie Hall, Marie Collier Baker Theater, Parilla Performing Arts and The Kavli Theater. In October 2013, Dokken traveled to Guayaquil, Ecuador to sit on an elite three member international adjudication panel for the Guayaquil Symphony Orchestra, one of South America's foremost national orchestras. In April of 2014, Dokken will return to Ecuador as guest conductor of the GSO. Over the past three years, Maestro Dokken has had the distinct honor of conducting at the White House in Washington D.C. as part of "Holidays at the White House." In December 2013, Dokken returned to The Kennedy Center to conduct a combined choir of 250 voices in a performance of Handel's "Messiah."
After earning his degree in vocal performance from the prestigious University of Redlands School of Music, Dokken pursued graduate degrees in music education and conducting at California Lutheran University and Shenandoah Conservatory, respectively. Maestro Dokken has studied conducting with Dr. Steven Cooksey and Jeffrey H. Rickard; euphonium and trombone with Dr. Phil Keen; piano with Dr. Angelica Prodan and voice with Mrs. Patricia Gee and Dr. Anthony Zwerdling. Dokken has had the good fortune of working with some of the world's greatest conductors, including Valery Gergiev, Christoph Eschenbach, Marvin Hamlisch and Norman Scribner. In addition to being a conductor and composer, Maestro Dokken is in high demand as a vocalist. As a singer, Dokken has performed with innumerable world-class soloists, including Andrea Boccelli, Kelli O'Hara, Brian D'Arcy James and David Archuletta, among others. Dokken recently made his debut in the Bach Cantata #80 with St. Marie's Musica, and performed a duet recital with renowned opera singer Jeanne Kelly this August 2014 in New York.
Upon his relocation to the East Coast, Maestro Dokken quickly became the Associate Music Director of Open5ths, then one of the premiere men's choirs in the Mid-Atlantic region. In 2010, Dokken was hired as Music Director and Conductor of the Symphony Orchestra of Northern Virginia (SONOVA), a position he still proudly holds. Additionally, Maestro Dokken is the Artistic Director of the Symphony Orchestra of Northern Virginia Chorale. Dokken has recently been guest conductor with the Opera Guild of Northern Virginia; American University; The Washington Men's Camerata; The Reformation Festival Choir and Patrick Lundy and the Ministers of Music.   Maestro Dokken is also proudly a conductor for the Northern Virginia Area Encore Chorales. He eagerly anticipates numerous exciting opportunities in 2014, including performances with cross-over recording artist Jackson Caesar; international opera stars Laura Wehrmeyer, David Timpane, and Larry Boggs; a week in residence at the Chataqua Institution; his debut conducting appearance with The Metropolitan Chorus; and choral and orchestral guest conducting performances in Ecuador, New York, Cuba, and Colonial Williamsburg as well as a season full of outstanding music with SONOVA, the SONOVA Chorale, and several special guest artists.
Dokken has composed for, conducted and performed on a number of opera, classical and musical theatre CD's and DVD's. Most recently, he conducted and co-produced Stephan Parker's 2013 adaptation of Ferdinando Paer's classic opera "Leonora," released commercially in July 2013. Additionally, Dokken is the Musical Consultant and Composer in Residence for the largest health care corporation in America, Kaiser Permanente, where his duties include composing health related musicals; scoring videos for public and in house use; and providing musical consultation on a wide array of arts projects. Dokken also maintains a thriving private voice and piano studio and is active as an arranger, educator and adjudicator.
###