When I moved to Jackson, Wyoming in 1984, the bottom had fallen out of the real estate market–condos were selling for half of what they were purchased for. There was no regular jet service.  You could get two TV stations (sometimes) and cable was not available. And, while the internet existed, the world wide web did not (it was launched in 1995). If the entertainment you sought was not available locally, you had to travel or do without. Or you could do it yourself.
In Chicago, I had worked as a light and sound man (and in Nashville, Orlando, and Branson), and also did standup comedy (at the Roxy; on the Friday Club TV show; at Nashville's Bluebird Cafe; and at the Catch A Rising Star in Cambridge, Mass.) and did the rounds at talent agencies in Chicago, trying to get acting jobs.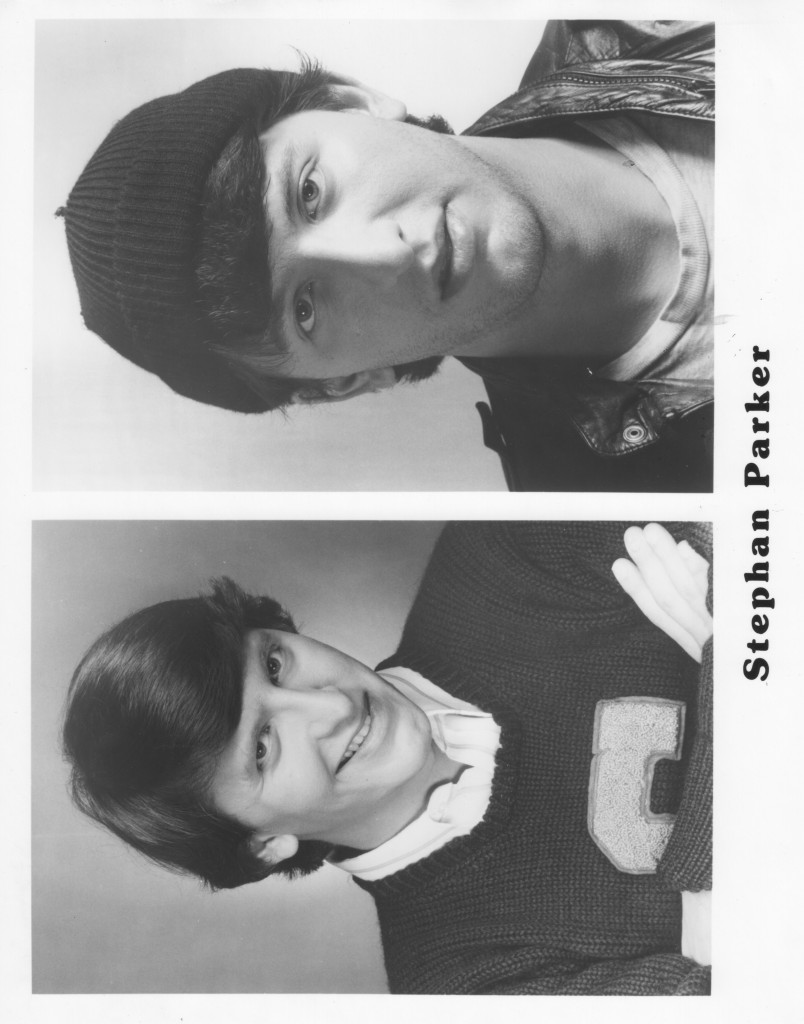 The funniest group I had seen in Chicago was The Practical Theatre Company and its college training ground, the Mee-Ow Show at Northwestern. For the latter, I served as audiovisual technician. Since I had no training in improv, try as I might to audition, I was not anywhere near good enough to join the troupe. There was just too much talent at Northwestern.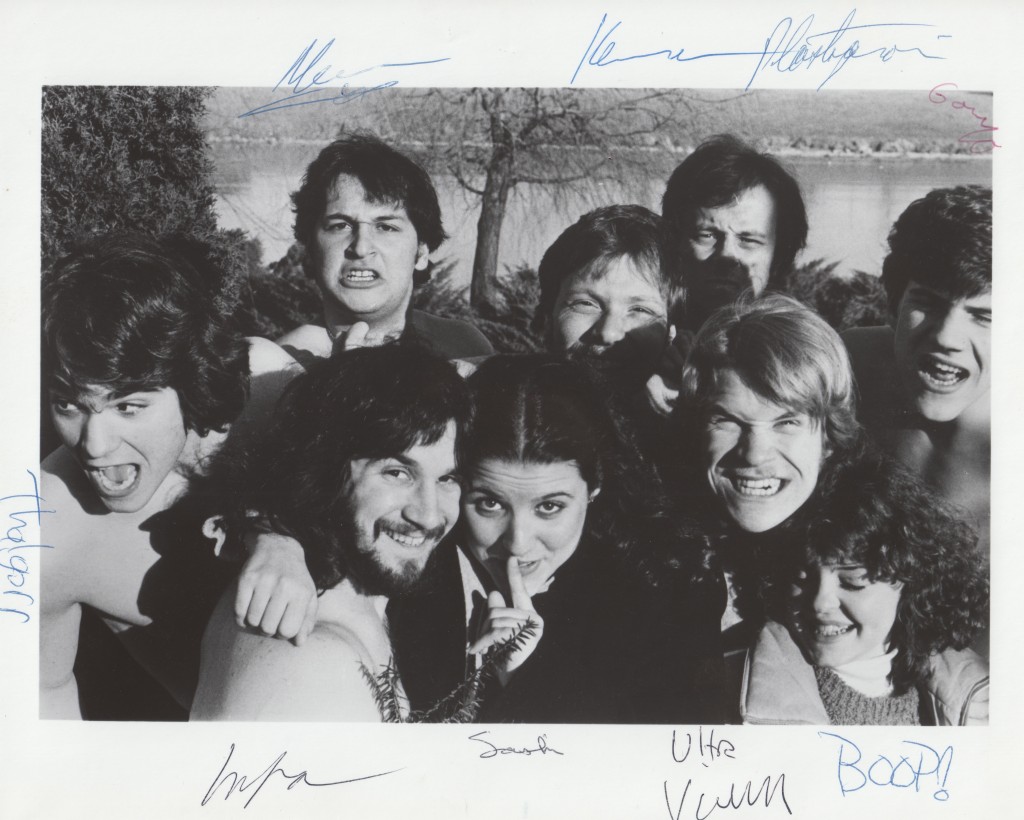 So when I saw an ad in the Jackson paper in 1987 that an improv class was forming at Tommy's On The Square restaurant, I leaped at the chance. Now I would learn the high art of improvisational sketch comedy. The improv class I joined included Holly Danner, the KMTN radio news reporter; and Ed Bachtel, who guided whitewater rafting trips for Barker-Ewing, the arch-rival to the whitewater rafting firm I guided for, Mad River Boat Trips (my river name was "Killer").  Holly and Eddie were two key members of the 1988 Roadkill Live!!! Comedy Revue, which ran for 8 weeks at the Wort Hotel in the Greenback Lounge (enter through the world-famous Silver Dollar Bar). Ed and I were partners in the show, which he mostly wrote and I mostly produced and directed. But I am getting ahead of the story…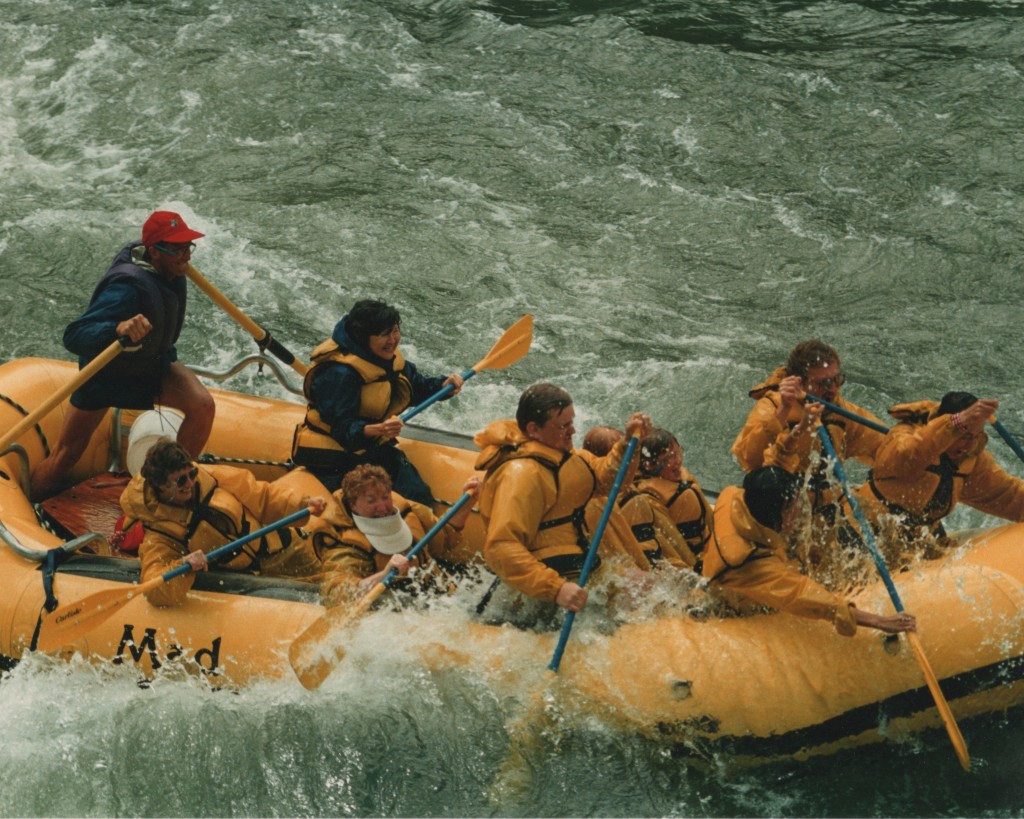 We were in the improv class, which met in the restaurant during restaurant hours–a little weird for the customers, I suppose, but this was a small town and I guess they must have looked at it as free entertainment. Honestly, I think they wanted the class during restaurant hours so they could get students into the restaurant to purchase food–business was slow.
Tommy's On The Square had access to a theatre space, where they put on plays such as Noel Coward's Blithe Spirit (with Holly in the lead role–I did the lighting). The owners were not interested in putting on an improv show, and because it was a family restaurant and people were trying to eat, our improv range had be kept within bounds. Eddie had also worked standup, although he was on the western circuit while I had stayed east of the Mississippi. So we decided to do some open mic to perform improv comedy that was a bit wilder. Just one problem–there was no open mic venue in Jackson.
Open mic (short for open microphone) was so well established in the places I had lived that I assumed there were places in Jackson, a place so rich in singing and songwriting talent. There had been one, but that place–the RJ Bar, I think–had long since closed. So first Eddie spoke to the owner of Spirits of the West Saloon, who agreed to provide a stage and free drinks for performers on Wednesday nights. Then, Judd Grossman rented us his sound system, telling us that he was about to quit his day job to be a full-time professional musician. I bought a Shure SM-58 microphone and put a red floodlight in a headlamp fixture I'd bought at Orville's Army Surplus, and we were in business. It went great, except for one thing–no one  at an open mic in a bar wanted to hear sketch comedy, although they were sure happy to hear singer-songwriters and cover singers.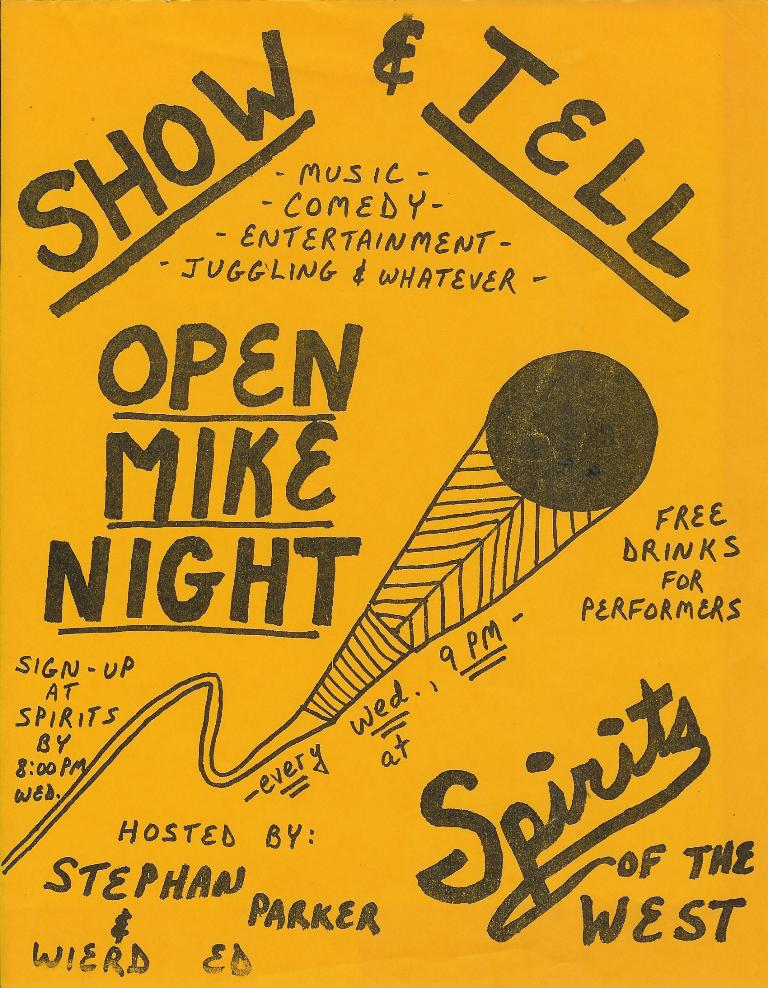 So Eddie spoke to the bar manager at the world-famous Silver Dollar Bar at the Wort Hotel. They had an under-utilized nightclub space that would be perfect for us. We agreed to an 8-week run that would begin Independence Day weekend, 1988. But that's another story…told through song, as it happens, as A Roadkill Opera…