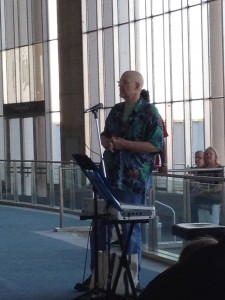 At the opening reception for Artomatic Takes Flight, the 2014 iteration of Washington's non-juried free arts event at The Gallery Walk at Reagan National Airport, Artomatic founder George Koch spoke eloquently about the simple goals of Artomatic: first and foremost, to build community among artists. Photographer DJ Choupin and author/librettist Stephan Alexander Parker, both long-time volunteers, were there.  After George spoke, Stephan caught up with him and told him this:
A Roadkill Opera was workshopped in Crystal City, Virginia, at Artomatic 2012. The workshop concert was so well received ("sprawling room only" as every seat was filled and people were sprawled on the carpet) that Parker and conductor/music director Jeffrey Dokken co-produced a studio recording with Blue House Productions's Jeff Gruber in Kensington, Maryland, in 2013. In the do-it-yourself spirit of Artomatic, when Parker released the recording in 2013, he also published all the sheet music for the score and parts, so anyone can put on the 59-minute opera. The support, encouragement, and facilities provided by Artomatic were instrumental and go back to the second Art-O-Matic.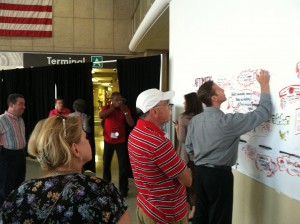 Parker exhibited at Art-O-Matic 2000 in Tenleytown, in the District of Columbia, highlighting the one-act plays that featured the character Eddie, Parker's comedy partner in Wyoming.  "Loose Lips," a one-act that is set in Nora's Fish Creek Inn in Wilson, Wyoming, has Eddie spinning a yarn about his involvement in the French commando attack on Greenpeace's Rainbow Warrior II.
Talk about a small world: Jay Marx, who was also at Art-O-Matic 2000, read "Loose Lips" at Parker's exhibit. He emailed Parker:
Sat, Oct 21, 2000 4:08 pm



Dude, I wish you had put a phone number on your installation somewhere and we could've been in touch days ago, because my email access is way sporadic, but suffice to say that I spent 9 summers of my youth in Jackson Hole and I knew Nora, before she ran the Fish Creek Inn, from running the JH Rodeo's concession stand, and now I'm acting, some, here in DC and helping to book the Literary Stage at A-O-M, and I will consider this whole artomatic venture a personal failure if we fail to arrange a staged reading of your plays, either on the lit. stage or upstairs on the Rhinocerous stage, and 
Please Call Me, at your earliest convenience, if such a proposition 
interests you--
Jay Marx @
XXX-XXX-XXXX - home
XXX-XXX-XXXX - mobile
Yes, DC needs a dose of the west real, real bad.  Hoping to speak to you 
soon. . .
--Jay
Jay went on to recruit actors and an audience. Since the formal slots on the Literary Stage were all booked up for the final week, the actors gathered on the roof of the garage, outside the temporary stage where Wooly Mammoth was presenting Rhinocerous. Based on the reading, Parker refined his play. On Groundhog Day 2013, with the first recording session for A Roadkill Opera under his belt, Parker published his first book, If You See Roadkill, Think Opera. As described on the back cover:
"Parker opens with his 25-year quest to identify music he recorded off a classical radio station in Chicago. He closes with the true-ish story of whitewater rafting guides from rival firms on the Snake River teaming up during the Yellowstone fires of 1988 to create an original, improvisational comedy sketch show, in the underground opera sensation Opening Night: A Roadkill Opera. In between are one-act plays with art entrepreneurs, kitchen characters, and boat saboteurs. Stephan Alexander Parker guided whitewater raft trips, drove buses, and worked at the Jackson Hole Cinema during his years in Wyoming. He is working on his show business memoir, I Rode With Ben Johnson."
Thanks to Artomatic for the community, support, and encouragement. Here's hoping we get a production at International Artomatic 2015: as announced this week, "Artomatic is collaborating again with our Sister City Sunderland England, the Inter-American Development Bank (IDB), Solas Nua and others in advance of an International Artomatic in the 3rd quarter of 2015 on the campus of Walter Reed Army Medical Center (WRAMC)."