Good morning, campers!
On Groundhog Day a year ago, February 2, 2013, the book If You See Roadkill, Think Opera was first released for sale on Kindle and on Amazon.com. It was the first of 7 Roadkill Opera paperbacks published in 2013; the other 6 provide sheet music and lyrics for anyone wanting to follow along, play along, practice, or perform A Roadkill Opera.
The studio recording of A Roadkill Opera was released on July 4, 2013, on Amazon.com and subsequently AmazonMP3, CD Baby, and iTunes. It is now available worldwide on nearly all platforms.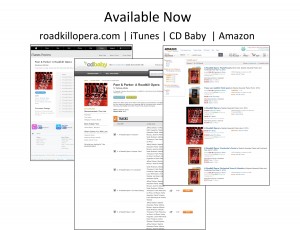 The "underground opera sensation" is garnering buzz among opera aficionados and amateur musicians alike.  A January 2014 listening party in Washington DC was repeated the next night.
The energy is building; contacts have been made and discussions are under way for potential performances in Tampa, Nashville, and Washington DC in the next year.
Many thanks to the fans who have written in this past year with compliments, encouragement, and ideas. Some of the correspondence received is excerpted below:
From: Bev
Date: Thu, Jan 30, 2014 at 12:57 PM
Subject: Re: Interested!!!
To: E.J.
With that enthusiasm and your credentials, I vote for you as first chair brass.

On Wed, Jan 29, 2014 at 8:50 PM, E.J. wrote:

My daughter might be interested, too (her name is Ivy, but she goes by _______ online).

I want to be chair of the brass section.  Can't play a lick.

 EJ

From: cece
Sent: Wednesday, January 29, 2014 5:15 PM
To: bev
Subject: Re: Interested!!!

 OMG

This is fantastic. Right up my alley. Can't wait to get the music so I can start playing it badly.

Cece
—–Original Message—–

From: Bev
To: E.J.
Cc: Cece
Sent: Wed, Jan 29, 2014 11:07 am
Subject: Re: Interested!!!

Thanks, EJ! 

About The Tampa Really Terrible Orchestra:  I just received a fakebook and CD for an opera, "Roadkill."  I think we can begin auditions for the opera and build from there.  The composer will provide the sheet music! 

I am introducing you by inclusion to Cece, the woodwinds first chair.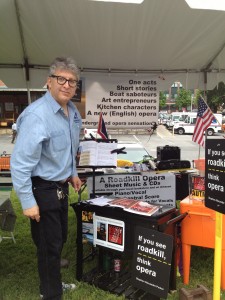 Others who listened to the studio recording have written in; here are some of the comments:
From: Roger
Sent: Monday, January 27, 2014 2:03 PM

Just want you to know that we appreciate and enjoy your Road Kill Opera track. After listening to it, I saved a copy for Jenny and I and gave the CD to my son. He is heavy into the 'Tenors' and Opera Vocals and immediately began playing it for our Grandson who enjoys music at 9 months old. The rich music and outstanding vocals makes us wish we were watching it live however, it is very imaginative on its own.
And this one:
From: Richard
Sent: Wednesday, January 22, 2014 10:55 PM
Subject: Roadkill

Stephan, thanks so much for the CD! A very pleasant surprise. I have listened a few times and will pass it on to Dick. I have sent the web link around as well. It is funny because two summers age in Boise I met ____ and found that like me he is a trombone player AND the leader of the Reno Jazz Orchestra. He became an engineer as he was not making it as a band leader for a while. He has since retired and is now full time with the Band. I have always told people that when I retire one of the things I planned to do was be a street musician in Portland, OR. My son lives there with his wife who is an Opera Singer (and Whole Foods Deli manager) and just went back to school for some more training. We would make a great pair out on the street.
And this one:
From: Kelly
Sent: Sunday, January 19, 2014 9:51 PM

The Roadkill Opera was amazing! Thanks for sharing the CD with us. The singing was fantastic and the lyrics were a lot of fun. My Dad said to tell you that you are a classic(al) guy! Not sure that I would ever have thought that an opera would be fun. Was there a stage show? If so, are you still performing? I'll be back in DC in late February and would love to see the live show.
And this one:
From: Linda
Sent: Monday, January 20, 2014 2:05 PM
Subject: an opera?

Really? Can you send me a link? Eva pinged me on that. How cool. You may have forgotten I have two degrees in piano performance 🙂
And one more:
From: Paul
Sent: Tuesday, November 26, 2013 5:52 PM
Subject: Opera
I listened to your opera yesterday while driving from Florida to Birmingham, Alabama.  I didn't realize it would be so funny.  The performers are superb and it is a very good recording.  It would really lend itself to an over-the-top period costuming and décor.  Or at least an original style production like the retro Shakespeare's Globe Theatre Company.
Thanks again to the fans and keep the emails coming.  You can also check out the comments below from Jeff and Rod (links are below) and the comments on the Kindle version of If you see roadkill, think opera (4 and 5 stars!).
The most recent brick and mortar location to carry the line is Groth Music: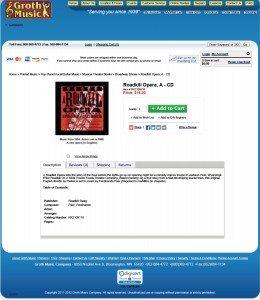 The paperback titles, authors, and original release dates on Amazon (products first created on CreateSpace, an Amazon company) are:
And the CD:
A Roadkill Opera by Stephan Alexander Parker (2013)