Just in time for last minute holiday presents, there are now more places than ever to purchase A Roadkill Opera for your performance, whether in your home, your school, or to really knock their socks off at your next opera audition.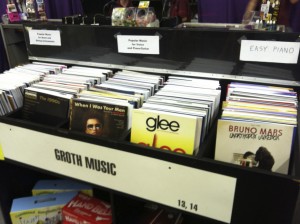 This week the largest sheet music distributor in Minnesota added the Performance Pack for A Roadkill Opera to their online catalog. As you may know, Minnesota is home to what many consider the best state fair in the country.  When I visited it in August 2013, I was thrilled to see so many items "on-a-stick," even music-on-a-stick!
While at the 2013 Minnesota State Fair, I met with Dan Friberg, Lessons Coordinator and Printed Music Department Co-Manager for Groth Music.
Groth Music Company – 8056 Nicollet Ave S, Bloomington, MN  55420  •952-884-4772  •(800)969-4772  •Fax:(952)884-1134
This week, Groth has everything you'd want in stock at http://www.grothmusic.com/cSearch.aspx?Search=road+kill&CategoryID=0&ManufacturerID=0&SectionID=0&PriceRange=0&SortBy=0&PageSize=9&AndOr=AND&DisplayMode=Grid:
A Roadkill Opera
By Stephan Alexander Parker and Ferdinando Paer.
A Roadkill Opera tells the story of the hour before the lights go up on opening night for a comedy improv troupe in Jackson Hole, Wyoming—the Roadkill On A Stick Frozen Foods Theatre Company. Based (loosely) on a true story from a fast-developing tourist town, this original English libretto (a new story with new lyrics by Parker) is set to music from 1804 by Ferdinando Paer (Napoleon's maître de chapelle). Books of parts for wind instruments and timpani and strings are designed to be cut apart for distribution to the orchestra. The piano/vocal score is perfect for rehearsals or classroom use.  Enjoy this hilarious romp through classical music with action set in 1988–the whole shebang runs 59 minutes, with a 9-minute overture (no singing) plus 12 songs.
Conductor…………….. $xx
Listening CD……….… $xx
Piano/Vocal……….… $xx
Winds……………….. $xx
Timpani & Strings….. $xx
Performance Pack…. $xx
(all of the above)
Of course, if you are not in the Minnesota area, you can still find A Roadkill Opera for downloads, order CDs, or order the books through the channels you are most comfortable with, including iTunes, CD Baby, and Amazon.