Keep your fingers crossed–the studio album was submitted for consideration for a Grammy–a long shot for sure, but I like the image in my head of the reaction of the screening panel sitting in a room and the coordinator saying "next we will hear Cavaleria Rusticana; then, Pagliacci; then, A Roadkill Opera."
Come to think of it, A Roadkill Opera could pair up nicely with Cavaleria Rusticana–cowboy coffee to shake up the usual "ham and eggs" opera pair (for an explanation, see Fred Plotkin's article at http://www.wqxr.org/#!/story/152640-ham-and-eggs-take-holiday-opera/).
When he was in town at a Gaithersburg Book Festival event, perennial Grammy Award-winner Ricky Skaggs was kind enough to wish me "Good luck with the Grammy entry" in his book, Kentucky Traveler: My Life in Music. I gave him A Roadkill Opera on CD and a copy of If You See Roadkill, Think Opera. DJ and I thoroughly enjoyed his book talk and his performance, and we are both enjoying his book, as well.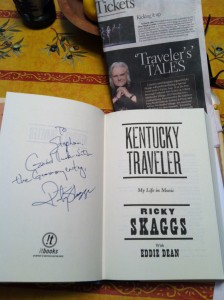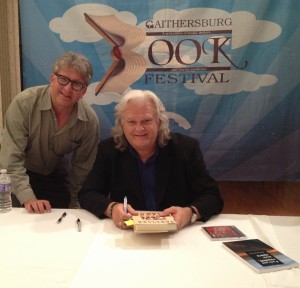 Acoustic music and great musicianship are two things I never get tired of.  And, it seems, bluegrass, too. It was heartening to hear from Ricky that, like all artists I have talked to, he had to take "straight" jobs to make ends meet. His tale of his job at a power plant outside Washington DC is a howler.
Speaking of great bluegrass musicians, Grammy Award nominated Matt Flinner showed an early interest in the sheet music for A Roadkill Opera when we caught the Matt Flinner Trio in concert at Dornan's in Moose, Wyoming. DJ used to bartend there.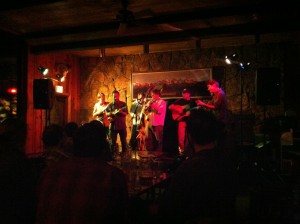 Both DJ and I were particularly taken with the performance of "Winter Wheat," which is available as a track on the Matt Flinner trio album Winter Harvest . The album is product of the "Music du Jour" project that Flinner, (mandolin), Ross Martin (guitar), and Eric Thorin (bass) started in 2006. Each member of the trio writes one new tune a day when on tour, and they play all three that night. Talk about talent! They all sight-read that well and that quickly, on top of their superb musicianship.
Between sets, I chatted with Flinner and found that his work with the Modern Mandolin Quartet on the Grammy-nominated Americana album is comprised largely of string quartets and piano preludes from the likes of Aaron Copland, George Gershwin, and Philip Glass, arranged for (what else) mandolin. Hey Matt, you might want to consider doing the Overture from A Roadkill Opera…